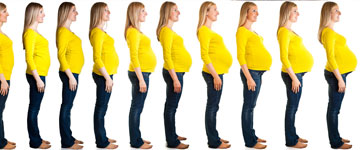 Weeks pregnant Pregnancy week to week
12 weeks pregnant – the changes in you
You are 12 weeks pregnant and for many women this is a milestone; a magic number. The most risky part of the pregnancy is over. You can have a more secure feeling about your pregnancy. Your bump is visible, especially to yourself. Most pregnant women now experience the weeks moving a bit faster.
12 weeks pregnant – how is your baby growing?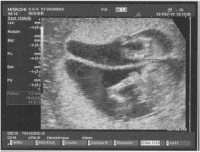 It is also a milestone for your baby. All the important organs are now established. That is the reason why the chance of miscarrying is now much smaller. In fact the baby is complete and just has to grow. Your baby is now approximately 6.5 centimetres long and weighs about 25 grams. In week 12 the ears (see diagram) and nose are formed.
What is your experience of pregnancy?
Your pregnancy week by week
Sign up now for free to PregnancySymptomsTest.com
Do you wish to receive a pregnancy update?
Register now for a free pregnancy update and receive a weekly email with information relevant to the week of your pregnancy; the things that are worth knowing about your developing child, the delivery, breastfeeding and other useful information.