Come and join us!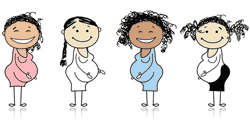 For women trying to conceive registering means that you can store all the results of your online pregnancy tests. This will give you a good picture of your most frequent symptoms during the fertile period around ovulation. So you better respond to changes.
For pregnant women joining means you can receive weekly information about your pregnancy and keep track of your weight.

We only keep your email address to allow you to log in again and, if you subscribed, to receive our weekly pregnancy newsletter (you can unsubscribe anytime). Your personal information will never be communicated to a third.