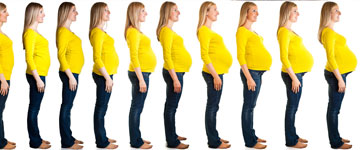 Weeks pregnant 9 weeks pregnant
9 weeks pregnant – the changes in you
Your uterus is now the size of an orange. Can you imagine that by the end of the pregnancy it will reach up to your ribcage and after the delivery shrink again to its original size? It is possible that you will become fatter. This is not yet due to the baby but swelling of the abdomen due to an expanded intestine. You may also suffer from sudden nose bleeds caused by the hormone progesterone and the presence of more blood in your body.
9 weeks pregnant – how is your baby growing?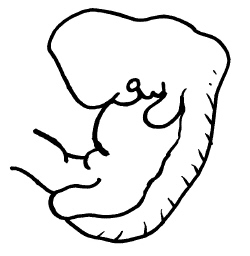 The foetus is now three centimetres long and weighs about two grams. The arms have developed a bit further and you can now see little hands with fingers and thumbs. Did you know the hands are no bigger than a pea? Meanwhile the legs are now visible with knees, ankles and toes. The developing mouth now has a tongue and developing reflexes enable the baby to move. However you will not be able to feel this movement yet.
Read what other people have written!
What is your experience of pregnancy?
Your pregnancy week by week