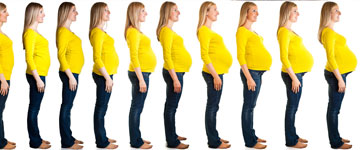 Weeks pregnant 18 weeks pregnant
18 weeks pregnant – the changes in you
Your breasts will have grown and become fuller in the last few weeks. The nipple changes colour, becoming browner and ofter bigger. Sometimes moisture may leak from the nibbles. You can purchase breast pads to put in your bra to prevent wet patches on your T shirt. It is useful to know that whether you have moisture leaking or not it does not indicate the quantity of milk for breastfeeding after the delivery.
18 weeks pregnant – how is your baby growing?

Your baby is now approximately 19 centimetres and weighs about 200 grams. The lungs continue to grow and the alveoli (small lung cavities) are formed. An adult has 2 million lung cavities so there is alot of work to be done. Your baby practices breathing. He allows amniotic fluid into his lungs and presses it out again. Actual breathing is not necessary just yet as he receives oxygen via your blood.
Read what other people have written!
What is your experience of pregnancy?
Your pregnancy week by week
Sign up now for free to PregnancySymptomsTest.com
Do you wish to receive a pregnancy update?
Register now for a free pregnancy update and receive a weekly email with information relevant to the week of your pregnancy; the things that are worth knowing about your developing child, the delivery, breastfeeding and other useful information.