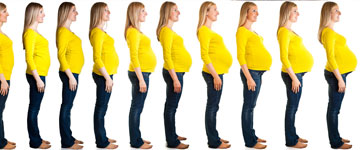 Weeks pregnant 10 weeks pregnant
10 weeks pregnant – the changes in you
In week 10 you may experience a lot of discomfort from pregnancy ailments. This is due to the hCG hormone which is at its highest level in week 10. Your abdomen is beginning to get a bit rounded and your waistline slowly disappears. After your evening meal your trousers are probably not so comfortable and you need to unfasten them. Talking of eating: 'eating for two' does not mean twice as much but eat twice as healthy.
10 weeks pregnant – how is your baby growing?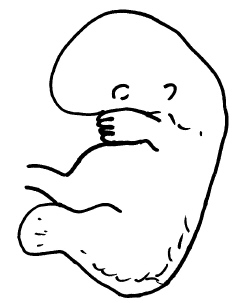 Your little child is now around 4 to 5 centimetres long and weighs about 5 grams. The head is as big as the rest of the body. Your baby is a proper little person. In week 10 the tail disappears. Your child has fully developed fingers, the urinary tract is under construction and the ears are developed. The important moment at the end of week 10 is that the placenta now exists. Until the birth, your child will get all the nutrition it needs through the placenta.
Read what other people have written!
What is your experience of pregnancy?
Your pregnancy week by week